---
The extradition request was forwarded to the SL high commission in S'pore on Sept.12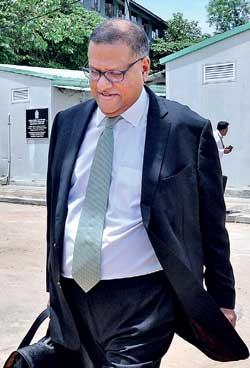 Singapore's Attorney General's Department is considering the request it had received to extradite Sri Lanka Central Bank's former governor Arjuna Mahendran, Attorney General's coordinating officer Nishara Jayaratne said yesterday.
On September 2 the AG forwarded the necessary legal documents with regard to Mr. Mahendran's extradition to the Defence and Foreign Ministries so that an official request could be sent to the Singaporean Government for extradition.

The Foreign Ministry forwarded the extradition request to the Sri Lanka High Commission in Singapore on September 12 for onward transmission to the Singapore Foreign Ministry.
Mr. Mahendran and nine others were indicted on charges arising from the Treasury Bond auction held on February 27, 2015 (with a face value of Rs.10.058 billion) causing a loss of Rs.688 million to the Sri Lankan Government.
Mr. Mahendran was indicted on charges arising from the Treasury Bond auction