---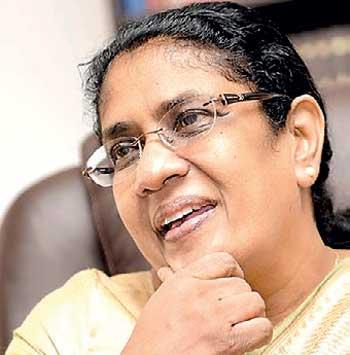 By Sandun A. Jayasekara
Justice and Prison Reforms Minister Talatha Atukorale yesterday rejected the remarks allegedly made by the President of the Bar Association of Sri Lanka (BASL) Kalinga Indatissa that she had no objection for the US Bar Association (USBA) setting up a branch in Sri Lanka during a discussion with opposition leader Mahinda Rajapaksa.
Minister Atukorale in a statement said the insinuations made by Indatissa that, as the Minister of Justice, she was agreeable to establish a branch of the USBA in the country were baseless and incorrect.

"I have not given permission being the minister of justice to establish a branch of the USBA or branch of any other foreign institution. It is extremely unbecoming and inappropriate as Indatissa, the President of the BASL to make such comments without checking the authenticity of his information from the President, Prime Minister or from me as the subject minister which amply displays that he is in a move to achieve his narrow political objectives. His behaviour also damages the good name and prestige of the BASL," Minister Atukorale said.
Making this kind of irresponsible and incorrect comments while holding the post of President of the BASL, Indatissa has belittled the BASL, misled the public and diminished the confidence on the BASL among the people, she said and added the President, Prime Minister or she would never resort to any action that would compromise the interests of the motherland.
His behaviour damaged the good name and prestige of the BASL