---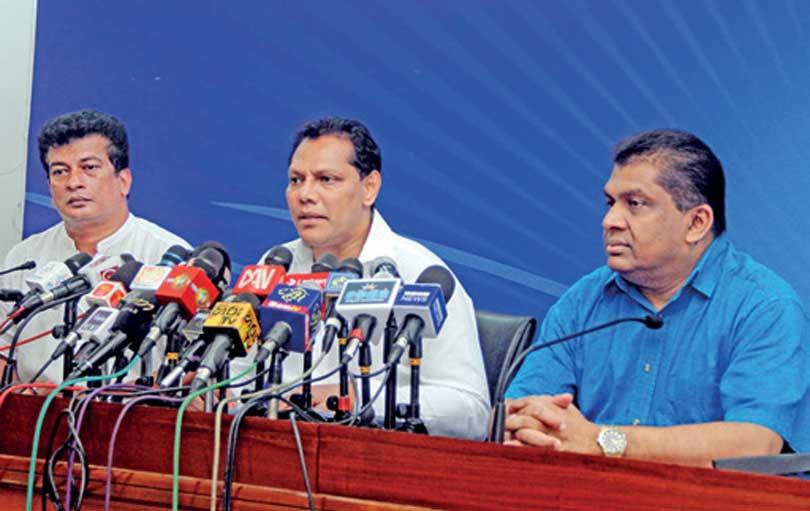 By Sandun A Jayasekera
The SLFP's Central Committee chaired by President Maithripala Sirisena will meet this Saturday to take a final decision on whether to support Sajith Premadasa or Gotabaya Rajapaksa at the presidential election, SLFP General Secretary Dayasiri Jayasekara said yesterday.
He said the CC had met on Monday to consider UNP General Secretary, Minister Akila Viraj Kariyawasam's invitation to support Minister Premadasa while talks on forming an alliance with SLPP was put off for October 5.

"If there is no a positive feedback from the SLPP by Saturday, we have no option but to consider the invitation extended to us by the UNF," Mr. Jayasekara said.

He told the weekly news briefing that the SLFP was still hopeful of aligning with the SLPP and expected a positive response from it before Saturday.

"We have humbly requested the SLPP to change its rigid stance on the 'pohottuwa' symbol and choose one that is acceptable to both parties. It is not a demand but a request made with bona fide intentions because the SLFP cannot ask its supporters to vote for the 'pohottuwa'. Besides, we are prepared to abandon the SLFP's hand symbol for the common good," Mr. Jayasekara said.

He said the SLPP leaders were in a utopia, thinking they would be able to secure an absolute majority or more than 50% votes which was statistically incorrect.

Citing statistics from local government poll results in February, 2018, Mr. Jayasekara said the SLPP would poll a million votes less that 50% or an absolute majority without the help of the SLFP and added that the SLFP possessed the final one million votes in its vote bank needed for the SLPP to emerge victorious with a 50% + majority at the polls.
"I believe saner counsel will prevail," Mr. Jayasekara noted.