---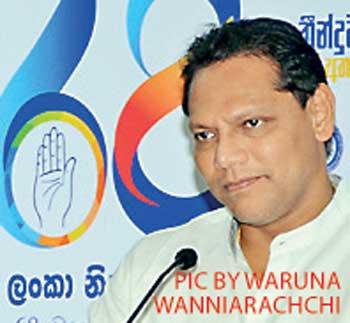 By Sandun A. Jayasekera
SLFP General Secretary Dayasiri Jayasekara said his party still had hopes of successfully concluding discussions with the SLPP thereby culminating in the formation of an alliance led by both parties, despite SLPP reneging on conditions agreed upon by the two sides.
"The SLPP breached the consensus on many issues the two parties had reached by giving membership to UPFA National List MPs S.B. Dissanayake and Dilan Perera. Nominating Gotabaya Rajapaksa as the SLPP presidential candidate was also an arbitrary decision. However, we still have hope that ongoing discussions between the two parties will be successful and lead to the formation of the proposed alliance to face the UNP at the forthcoming presidential poll," he said.

Addressing the weekly news briefing at the party office yesterday, he said the SLFP would never betray the millions of supporters but safeguard the integrity and standing of the party.
"During the seven rounds of talks, we were able to agree on a number of issues including the abolition of the executive presidency, one law for the entire country, amending the election law and implementing a sustainable fiscal policy that will not change when governments do. However, further discussions are needed to sort out the party name and symbol and fate of our elected members including parliamentarians in the proposed alliance. We wonder whether two of our members were snatched to embarrass us further," he said.

On a different note, he said comments made by certain joint opposition and SLPP members did not help but disrupt talks. "SLPP chief strategist Basil Rajapaksa has a genuine desire to conclude talks on a positive note, but some party members do not share similar sentiments," he said.

Meanwhile, SLFP Senior Vice President Nimal Siripala de Silva said the party handed over a 12-point document to the SLPP and agreements had been reached on many of them. Therefore, it is vital to continue discussions among the two parties, he said.

"We are not to join the UNP or support it anyway. If talks collapsed and there is no possibility of forming an alliance, we will contest the presidential election. Setbacks and resumption of talks are common before any agreement. This was the same during talks between the LTTE and the Sri Lankan Government. Therefore, SLFP-SLPP talks have to be carried out patiently. What is important is that they must realise none can win the presidential election without the support of the SLFP. We are simply the kingmaker. That is the bitter truth," he said.