---
Unfortunately, the SLPP had sent Dr. Ragavan's name to the Elections Commission as the nominee for the SLFP ignoring our nomination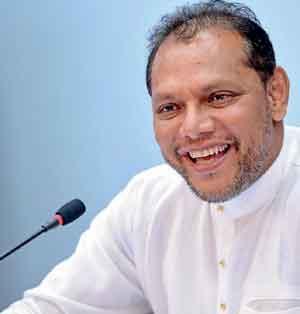 By Sandun A. Jayasekera
General Secretary of the SLFP and Batik, Handloom and Domestic Apparel Production State Minister Dayasiri Jayasekara yesterday expressed the SLFP's disappointment and displeasure over the appointment of Dr. Surendra Ragavan as a National List (NL) MP, by the SLPP, overlooking the nomination of Prof. Rohana Lakshman Piyadasa as the party's first choice for it.
In response to Daily Mirror at the ceremony held to mark his assuming of office yesterday at the World Trade Centre in Fort, Minister Jayasekara said the SLPP had asked the SLFP to nominate four persons for the party's only NL slot and the first choice was Prof. Piyadasa.

"But, unfortunately, the SLPP had sent Dr. Ragavan's name to the Elections Commission as the nominee for the SLFP ignoring our nomination. They should have at least asked us or informed us about the change of nomination. They did not do that. We are not happy about it. Besides, the refusal to nominate Prof. Piyadasa and appointing Dr. Ragavan on behalf of the SLFP's slot is against the agreements reached between the two parties. We expect to discuss this issue with the SLPP in due course," Minister Jayasekara said.
Minister Jayasekara also said the SLFP was extremely satisfied with the results of the parliamentary polls from which the SLFP emerged as the third political force in the country after SLPP and Samagi Jana Balawegaya (SJB) with 14 MPs. "Some said the just concluded election would bring about the total downfall of the SLFP. But we were able to secure 14 seats in Parliament. The victory by Angajan Ramanathan in Jaffna is a historic one because that was the first-ever victory for the SLFP in Jaffna. It also shows that the voters in Jaffna have voted on policy but not on ethnic lines," Minister Jayasekara said.

In a scenario where the UNP, the grand old party that ruled the country until last November suffered a sudden and unexpected death and traditional left movement has become history, the SLFP has a bigger role to play in the country's politics, Minister Jayasekara emphasised.
The victory by Angajan Ramanathan in Jaffna is a historic one
The refusal to nominate Prof. Piyadasa and appointing Dr. Ragavan on behalf of the SLFP's slot is against the agreements reached between the two parties