---
He apologised to the people in Parliament for this incident despite it having occurred even before 96 hours of his assuming duties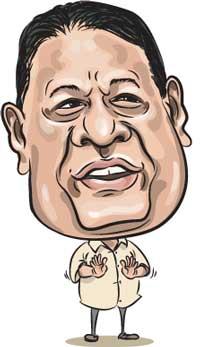 By Krishan Jeewaka Jayaruk
The Minister of power Dullas Alahapperuma said yesterday (23) that he would resign from the ministry portfolio if the expert report expected today finds any fault of the Ministry of Power with regard to the recent countrywide power outage on August 17.
He expressed his views at an event held in Akuressa to thank the voters who had voted the Sri Lanka Podujana Peramuna (SLPP) at the August 5 Parliamentary election.

Three major breakdowns of power supply had happened from 2016 but people are still not aware of the findings of committees appointed on these three occasions to look into the causes of the power failure, he said. This practice of appointing expert committees has led people to believe that expert committees are meant to hide the real situation from them. Therefore, he would like to set a precedent by resigning the ministry portfolio if the ministry is found responsible for the recent power failure.

He also said that he apologised to the people in Parliament for this incident despite it having occurred even before 96 hours of his assuming duties.

Following the examples of the ministers in developed countries he would resign from the ministry by 25th evening if the ministry was found responsible for the power outage.

The island-wide breakdown of power supply on the 17th was due to the fault of the transmission grid substation at Kerawalapitiya power station.

Minister Dullas Alahapperuma appointed a nine-member experts committee to submit a report within a week about the incident of power failure. The expert committee report is expected to be received today.
The island-wide breakdown of power supply on the 17th was due to the fault of the transmission grid substation at Kerawalapitiya power station