---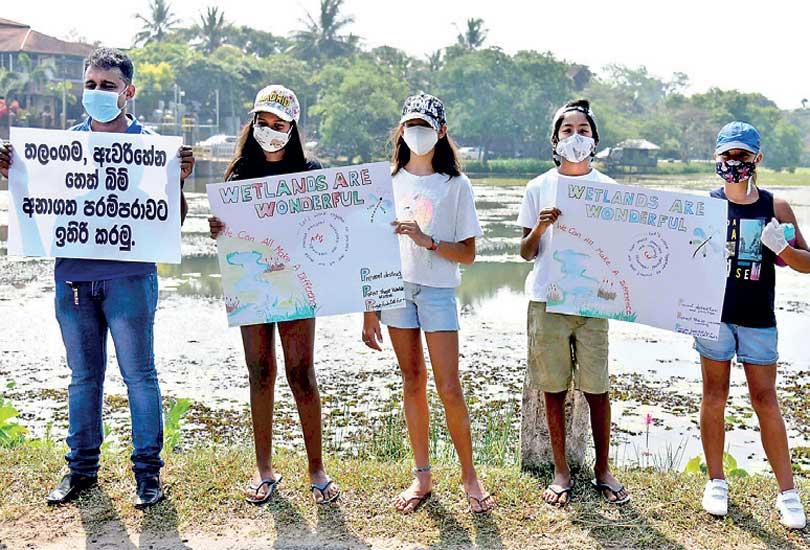 By Nishantha Hewage
A group of environmental activists organised a campaign to make the public aware of the impending threats that the proposed highway project along the environmental protection area have posed on the Ramsar accredited Thalangama Wetlands and surrounding paddy fields.
The environmental activists and other concerned groups organised this campaign on Saturday at the Thalangama lake bridge.

Speaking to Daily Mirror, one of the organisers of the event said, "the Thalangama Awerihena Wewa Wetlands are one of the few green areas left near Colombo and the City attained its recognition under the Ramsar Convention as South Asia's only Wetlands City because of these unique wetlands.

If an Eco-System Economic Assessment is done by any internationally recognised independent Expertise, it will be undoubtedly revealed that such permanent ecosystems costs and losses will far outlay the costs of other alternative options.

As per our country's Supreme Constitution, we owe it to the country as our duty to protect these unique, historic and internationally recognised treasures, for the sake of the present and the future generations of our motherland. As such, an elevated Highway over these unique wetlands should be a non-starter." One of the participants who did not wished to remain anonymous said given that no Environmental Impact Assessment (EIA) had been carried out so far, the project was expected to be completed with a minimum impact.

He noted there could be air pollution due to vehicular emissions. "There will be sound pollution which potentially harms the serenity of the wetland which sustains a lot of animal species," he said.

He said the project has been put a temporary halt due to the profound activism by concerned groups against the highway project.