---
We see blocking of information with regard to COVID-19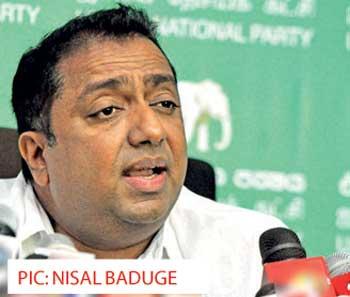 By Yohan Perera
United National Party (UNP) yesterday urged the government not to take up the debate on the proposed 20th Amendment in Parliament till the COVID-19 pandemic situation is controlled.
UNP General Secretary Akila Viraj Kariyawasam told a press conference that priority should be given to the controlling of the pandemic which seemed to spreading to many parts of the country.
"Government seemed to be hell bent on getting the 20th Amendment approved in Parliament despite the dangerous situation that had been brought about by COVID-19. However it is better if the government gives priority to controlling the pandemic," Mr. Kariyawasam said.

"Also the government should take into consideration the growing opposition to the 20th Amendment and more importantly the sentiments expressed by the clergy,". "COVID-19 cases are detected from many parts of the country including Gampaha and Kurunegala Districts. People are not aware of the correct situation when it comes to COVID. No one including the Minister of Health had made any official statement with regard to the pandemic. Government should also state whether there is a need for a lock down," he added.
No one including the Minister of Health had made any official statement with regard to the pandemic