---
Maintains there is a lapse in int'l support to nab him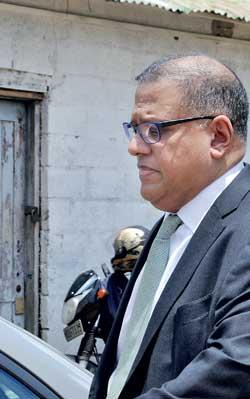 President Maithripala Sirisena yesterday faulted the Singaporean Government of not making a clear and open statement as to whether the main respondent in the Central Bank bond scam was in the country.
"What I am concerned about is that the Singaporean Government has not made a clear statement about this yet. That is the prevailing situation. I see a certain lapse in international support in arresting the main respondent. The Singaporean Government should take more responsibility in this matter or else make a clear statement saying he is not in Singapore," he said.

Speaking at a ceremony held in Colombo to launch the national action plan against bribery and corruption, the President said: "We have not been able to nab the main respondent in the Central Bank bond scam. That is the true situation. When I met the Singaporean Prime Minister, I spoke to him personally about this matter. I told him that this person has international warrants and to hand him over to us. What he told in response was that they would not hesitate to do so whether or not he was a Singaporean citizen.

"I appointed four commissions. One of them was to probe corruption at SriLankan Airlines and another was a presidential commission to probe the frauds and corruption under the present government during the past four years. When I went to the Cabinet meeting after appointing and gazetting the commission to probe corruption in this government, some ministers asked me as to why I appointed a commission to probe corruption of this government without probing the previous one. I wondered at that moment whether those who asked so were in their proper senses because they had forgotten that I appointed a commission to probe the previous government and its report was presented in Parliament as well."
The Singaporean Government should take more responsibility in this matter or else make a clear statement saying he is not in Singapore