---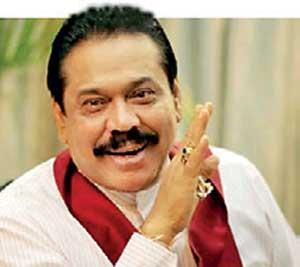 By Sandun A. Jayasekera
"We have no time to spend a political honeymoon or take revenge. We have no time to grumble for not being ill-treated or cornered. Now, we should expedite work, having considered the huge mandate," Prime Minister Mahinda Rajapaksa said yesterday.
He said this while delivering the keynote address at the workshop held in Parliament to help the new entrants to familiarize themselves with parliamentary tradition, ethos, standing orders and privileges.
He urged the newly-elected lawmakers to unite in the major task of introducing the proposed constitutional reforms, eschewing personal agendas and political affiliations.
He said he could recall the day he sat in Parliament as a new MP and treated such lectures as a nuisance.

"You may also feel the same but these seminars are held to educate the newcomers on parliamentary business. I remember my father telling us that when he entered the then State Council for the first time, SWRD Bandaranaike took the newly-elected MPs on a tour around parliament," he said. "There are 82 new faces in the new Parliament. What is most important is to be an MP who fulfils the aspirations of those who elected him or her to this House. Use the parliamentary library regularly to improve your knowledge."

The Premier said one of the significant features of this election was that no political party was able to carry out a high-spending propaganda campaign with high spending.
"There were no posters, no cutouts, no floats. No big political rallies. No processions. No transport of party supporters in buses. All those involved in the election adhered to election laws. However, the turn out of voters was 71%. Politicians must learn to love the country, have the efficiency, skill and capability to serve his or her voters to their satisfaction. If you failed in these qualities and failed in the job you have been given, voters will reject you at the next election. "