---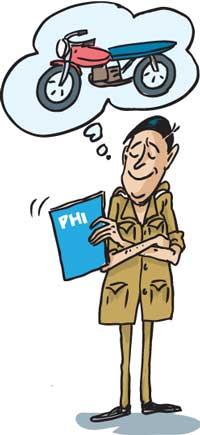 By Kalani Kumarasinghe and chaturanga samarawickrama
Public Health Inspectors (PHIs) islandwide are to receive motorbikes for the first time in eight years. Public Health Inspectors Union of Sri Lanka (PHIUSL) Secretary M. Balasooriya said that the Health Ministry is supposed to issue motorbikes for PHIs every five years to assist in their field work, similar to the vehicle permit scheme for Sri Lankan medical doctors.
"However PHIs haven't received motorbikes since 2012," Mr. Balasooriya said. "In 2014 there was a programme to distribute motorbikes for state employees, through which some of our officers received motorbikes. But we haven't received any motorbikes through the Health Ministry all this time," he said.

The Health Ministry is set to issue motorbikes to PHIs islandwide under funds allocated through the COVID-19 Emergency Response and Health Systems Preparedness Project, by the end of August 2020. Mr. Balasooriya said that this programme would facilitate over 1,500 PHIs who have faced numerous difficulties when engaging in field work, especially with the efforts to contain the spread of the Covid-19 pandemic.

Mr. Balasooriya commended the authorities' decision, adding that there were several other issues the PHIUSL is looking to resolve. "For instance the post of the Chief Health Inspector remains vacant for years. Since we are still dealing with a challenging time period, we understand the delays in rectifying these issues. However, we hope that our concerns will be addressed by the government soon," Mr. Balasooriya said.