---
Former Defence Secretary, IGP, CNI, SDIG of CID notified
Whatsapp message he sent to former Defence Secretary and an acknowledgement of receipt by the latter stating ''Well received"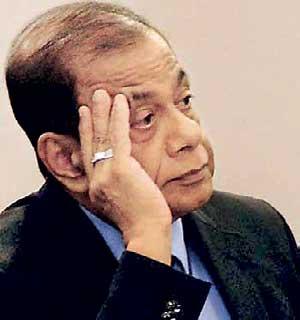 By Yoshitha Perera
Former Defence Secretary Hemasiri Fernando and three other top security officials had been informed about the reliable intelligence received from a foreign counterpart on April 20, 2019 about the imminent coordinated terror attacks, and the former had even acknowledged the receipt of that information, it was revealed at the PCoI probing Easter Sunday attacks yesterday.
Responding to a question raised by a representative from the Attorney General's (AG) Department, former State Intelligence Service (SIS) Director SDIG Nilantha Jayawardena yesterday informed the commission that he had continually informed the former Defence Secretary as well as former IGP Pujith Jayasundara, former Chief of National Intelligence (CNI) Sisira Mendis and former SDIG of CID Ravi Senavirathna about a series of coordinated terror attacks by Zahran Hashim and his associates.

"The information which had been received on April 20, 2019 was reliable and I wanted the relevant officials to take immediate action with regard to the intelligence alert. After receiving the foreign intelligence on April 4, 2019, I kept informing these four officials continually about Zahran and his plans, and I was under the impression that they would take quick action following the April 20 alert," he said. SDIG Jayawardena showed the Whatsapp message he had sent to the former Defence Secretary and an acknowledgement of receipt by the latter stating "Well received". According to April 20, 2019 intelligence alert, a reliable source confirmed that the Leader of National Thawheed Jama'at (NTJ) Zahran Hashim and his associates had been hatching a plan to launch a suicide attack (Istishhad attack) on or before April 21, 2019. Referring to the message sent by the foreign counterpart, SDIG Jayawardena said Zahran's plan was to launch the attack on eight locations, including a church and a hotel where Indians inhabit in large numbers. " The message had also confirmed about the bicycle bomb explosion in Kattankudy by Zahran as a forerunner to the Easter attacks," he said.

Jayawardena added that the informant who sent the intelligence alert on April 4, 2019 on possible terror attack, questioned him as to how the particular intelligence alert was circulated among the senior officers.

"The letter, which I sent to the former IGP on April 9, 2019, included all information which I had received on April 4 and circulated among the senior officers. It was a top secret information and I don't know how it had disseminated among the senior officers," he said.

SDIG Nilantha Jayawardena also added that he had sent the reliable intelligence report which he had received on April 20, 2019 about the attack, to former Commandant of Special Task Force (STF) SDIG M. R. Latheef.