---
By Yohan Perera
The Archbishop of Colombo Malcolm Cardinal Ranjith, who vehemently condemned yesterday's bomb attacks on Churches, said the attacks had been carried out by an organized terrorist group.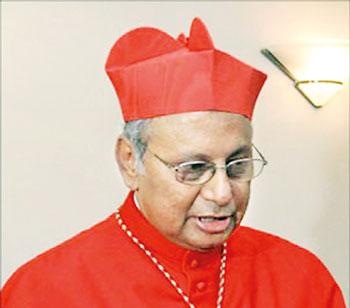 "We don't know as to who is behind these attacks but it seems that it has been done by an organized terrorist group. We vehemently condemn these acts," Cardinal Ranjith said.
Cardinal requested the Catholics to stay calm.

"Be calm and pray for those who are affected by this brutal attack," he added.

The Archbishop expressed his sorrow to the families of those who were affected by the attack.

He also requested the people to participate in relief work and also to donate blood if it is needed. Also, he requested the people not to take the law into their hands and let the law enforcement institutions to take care of it.

Meanwhile Head of the Catholic Church Social Relations Unit Fr. Edmond Tillakaratne said a few priests were also injured in the attack on the Katuwapitiya Church.