---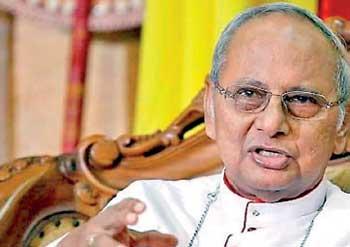 By Yohan Perera
Archbishop of Colombo Malcolm Cardinal Ranjith is currently studying a request made by President Gotabaya Rajapaksa who had requested him to name a representative to a new commission which he intends to appoint to probe the Easter Sunday attacks, a church official said yesterday.
This official from the Archbishop's House told Daily Mirror that President Rajapaksa had informed Cardinal Ranjith when he made a courtesy call on him recently that a new commission will be appointed to determine the truth pertaining to the Easter Sunday attacks and invited the Archbishop to name a suitable representative.

"This will be something like a truth commission and the President wanted the Cardinal to name a representative. Cardinal is still studying the developments with regard to the issue," this official said.

"However appointing a new commission does not mean that the commissions that have been already appointed are bad," he added.

Also the Sinhala Catholic Sunday Weekly 'Gnanartha Pradeepaya' also reported that the President had asked the Cardinal to name a preventative to the committee he is going to appoint to probe the Easter Sunday attacks.