---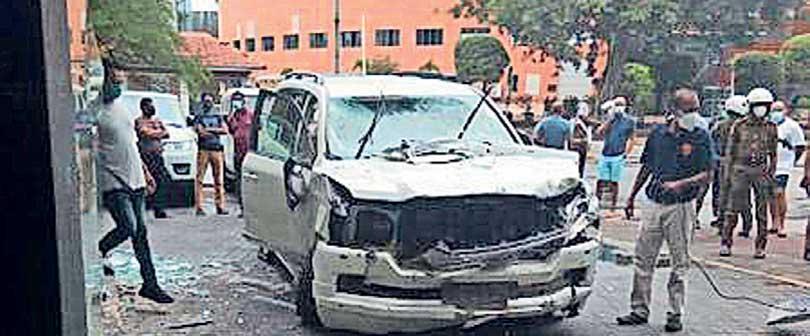 The 19-year-old suspect, Preshani Maleesha Rathnayaka, is a resident of Malabe
complaint lodged by proprietor of Nanda Motors
vehicle owner also been charged for allowing a person without a licence to drive his vehicle
By Nimanthi Ranasinghe
Following the incident of a luxury vehicle crashing into a motor showroom opposite the Nelum Pokuna Theatre in Colombo on Sunday, Cinnamon Gardens Police have released the suspect, who is a daughter of a Senior Superintendent of Police, on police bail of Rs.10,000 yesterday. The 19-year-old suspect, Rathnayaka Mudiyanselage Preshani Maleesha Rathnayaka, is a resident of Pothuarawa, Thalangama, Malabe.
The suspect was charged with negligent driving, failing to avoid an accident as well as driving without a valid licence. The suspect, who was released on bail, will be produced before the Colombo Chief Magistrate today (17), police said.

A complaint was lodged with the Cinnamon Gardens Police by L. A. Anura, proprietor of Nanda Motors, in Colombo 7. The incident caused heavy property damage to the showroom, including damage to several luxury vehicles, the complainant said.

Police also said the suspect had been driving a vehicle belonging to another person, who had also been charged against his actions to allow a person without a licence to drive his vehicle.

Meanwhile, a senior Police officer said that the SSP's son was arrested in 2019, in connection with an accident involving a Jeep, which killed the then Borella Traffic OIC IP Ananda Sarathchandra.