---
The party members and those who value democracy have been saddened by the present status of the party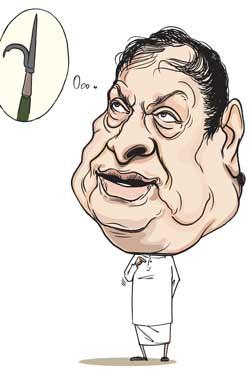 By Yohan Perera
Former Speaker Karu Jayasuriya has informed UNP Leader Ranil Wickremesinghe and the party seniors that he is ready to accept the challenge of leading the UNP, following the requests made by various sections.
"This is a decision made solely by me, considering my duty towards the future of our nation and the people who strive for fairness and I am willing to perform this duty fearlessly and in a manner which gives some value to it," Mr. Jayasuriya said in a statement.
"I have informed the UNP Leader and the party seniors that I have carefully considered the requests made by various sections and had decided that I would accept the challenge of restoring the UNP," he said.
"It was the UNP, led by late Prime Minister D. S. Senanayake, which played a pivotal role in winning independence to the nation through its maturity and ability to achieve this feat. However the party members and those who value democracy have been saddened by the present status of the party. Many have invited me to take over the task of restoring the UNP after the general election. These comprised the Maha Sanga, other religious leaders, those who are associated with the UNP, trade unions affiliated to the party, youth organisations and the civil organisations. They are of the opinion that this may be the last opportunity that would be available to re-organise the party. I have been able to play a leading role in creating a turning point in the party in 2014 as the chairman of the leadership council," he added.

Several University dons told a press conference that Mr. Jayasuriya should be appointed as the interim leader. Professor Prasanna Perera of the University of Peradeniya said Mr. Jayasuriya should be appointed as the interim leader while Samagi Jana Balawegaya (SJB) should be merged. Professor Emeritus of Peradeniya University Sisira Pinnawala said Mr. Jayasurya would make an ideal interim leader as he could unite the party. Venerable Piyaratana Thera of Kelaniya University said the present leader Ranil Wickremesinghe should avoid adverse situation within the party by holding on to the leadership as the party membership might get aggressive if the crisis is not resolved soon.
This is a decision made solely by me, considering my duty towards the future of our nation