---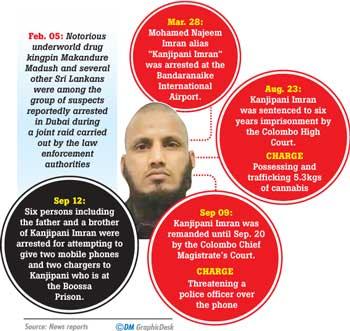 By Yoshitha Perera
Underworld gangster Mohommad Najim Mohommad Imran alias Kanjipani Imran was re-remanded till November 15 by Colombo Chief Magistrate Lanka Jayaratne.
A Colombo Crime Division (CCD) officer informed the Magistrate that the Government Analyst had completed the investigation into a phone recording between the suspect and a police officer.

It said Kewadasan Dushanthan alias Susantha, an accomplice of Kanjipani Imran was arrested on January 7, 2019 on charges of being in possession of heroin on January 07, 2019 and that this matter was reported to a police inspector's phone, who was on duty at the Colombo Chief Magistrate's Court premises at the time.

Kanjipani Imran was arrested on charges of making death threats over the phone to the particular police inspector to release his accomplice who was arrested with a haul of drugs.
The Magistrate directed the government analyst to submit the report on the voice sample obtained from the particular phone conversation to the Court on the next hearing date.
Kanjipani Imran was arrested on charges of making death threats over the phone to the particular police inspector to release his accomplice who was arrested with a haul of drugs