---
CNI found Zahran's online radicalisation to be a serious threat to national security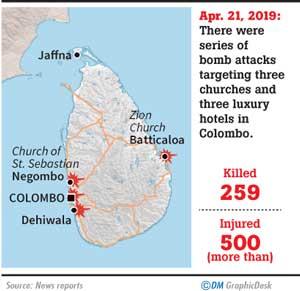 By Yoshitha Perera
Almost all the intelligence on National Thowheed Jamaat (NTJ) leader Zahran Hashim was collected through social media platforms and there was a marked reluctance to collect ground-level intelligence about him, a senior staff officer attached to the Directorate of Military Intelligence (DMI) on Thursday informed the Commission probing the Easter Sunday attacks.
The witness who did not wish to be named informed the Presidential Commission of Inquiry (PCoI) that he had served at the office of the Chief of National Intelligence (CNI) between 2017 and 2019.

He informed the PCoI that most of the intelligence information was received through open sources and it was a very rarely if at all was any direct information obtained about Zahran.

"Some details about Zahran was received from the DMI and the State Intelligence Service (SIS) but according my recollection most of the intelligence was obtained through social media platforms," the witness said. He said Zahran had begun online radicalisation and the CNI found it to be a serious threat to national security.
During his testimony, the witness presented a dissertation with regard to the problem and prospects of Muslim militancy and its implications for national security in Sri Lanka.
Zahran had begun online radicalisation and the CNI found it to be a serious threat to national security