---
Referred to Tamils 'our bothers and sisters'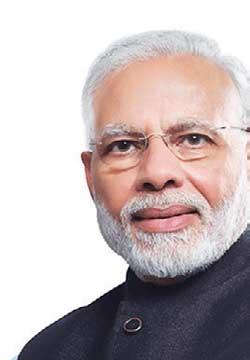 Indian Prime Minister Narendra Modi asserted yesterday that India is always committed to ensure that Tamils in Sri Lanka whom he referred to as 'our brothers and sisters' live with equality, justice, peace and dignity.
Addressing a meeting in Chennai yesterday, he said his government had taken care of the welfare and aspirations of 'Tamil brothers and sisters' in Sri Lanka.

The Indian Prime Minister's remarks came at a time when bilateral ties hit an all-time low following the Sri Lankan government's decision to renege from the commitment by the previous government to develop the East Container Terminal of the Colombo Port with India.

Sri Lanka offered to develop the western terminal with India, However, India still persists with its demand that the ECT should be developed in an equity sharing arrangement with them.

The extracts of Mr. Modi's remarks were shared with the local media by the Indian High Commission in Colombo.
"It is my honour to have been the only Indian PM to visit Jaffna. Through development works we are ensuring the welfare of Sri Lanka's Tamil community. The resources given by our Government for Tamils have been much more than in the past. The projects include: Fifty thousand houses for displaced Tamils in North-Eastern Sri Lanka. Four thousand houses in the plantation areas. On the health side, we financed a free ambulance service which is widely used by the Tamil community. A hospital has been built in Dickoya.