---
We need young, educated, honest politicians who are ready to work for the country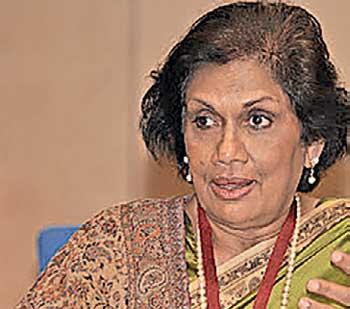 If Vijaya Kumaratunga was alive to see how the country is being governed today, he would jump into the sea, former President Chandrika Bandaranaike Kumaratunga said yesterday.
She told the media after attending the 33rd Death Anniversary of actor-turned-politician Vijaya Kumaratunga that the country needed young, educated and honest politicians.
When asked if the country has reached the position where the late Vijaya Kumaratunga had anticipated, she said she could only laugh rather than answering that question right now.
"We build the country and someone comes and destroys it. This country can never be developed. We need young, educated, honest politicians who are ready to work for the country through their-own funds, would not make politics a business, but leave after holding office for one term. We developed the country at a cost of our lives. Everything has turned backwards. If Vijaya was alive, he would jump into the sea," she lamented.

Ms. Kumaratunga said those who govern the country should have a proper understanding on foreign relations and added that Sri Lanka has become a Chinese colony.
"Sri Lanka has become an undeclared colony of China. I have no issue with China. Those who protest against giving a development projects to India are silent when everything was given to China," she said.