---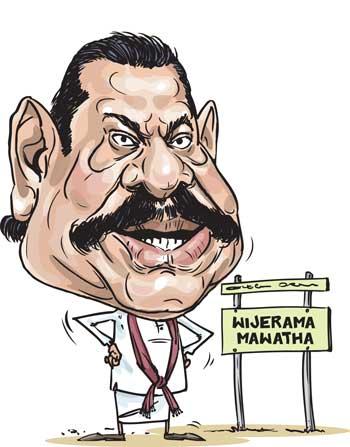 By Yohan Perera and Ajith Siriwardana
Opposition Leader Mahinda Rajapaksa yesterday rejected allegations that he had wanted Wijerama Mawatha, where his official residence is located, closed.
In a statement in Parliament he said he never asked that Wijerama Mawatha be closed.

"I have never asked for the closure of Wijerama Mawatha at any time. It is not only me who is residing on this road. Minister Gayantha Karunatilleke and Minister Champika Ranawaka also live down this road. The Palestine Embassy in Sri Lanka is also located along the same road. Therefore how could I make such a request," he asked.

Mr. Rajapaksa was referring to an allegation made by some government members in the House on Thursday that he had wanted the road closed.

"It is time we stopped making allegations against each other and work together to see the country through the present crisis," he said and urged the government to come up with an overall economic management package to help the affected parties.

"The Easter Sunday attacks have delivered a blow to the economy other than killing a large number of people. The SMEs, self-employed, bus owners and three-wheeler owners have been affected as a result of this tragedy. Some have found themselves in a fresh crisis as they are unable to pay loan installments. Fines have been added to the debt installments," Mr. Rajapaksa said. "Export of crops have also gone into a crisis and around 2 million people who depend on these industries."

He revealed that number of monthly inbound flights at the Bandaranaike International Airport has been reduced by 300 while artistes including film directors and actors and actress who had made movies for Vesak and those who were planning to put up pandols and other decorations for Vesak have also been affected.

Mr. Rajapaksa said that was why it was vital to have an overall economic management package to help those economically affected by the current crisis.
There others living there