---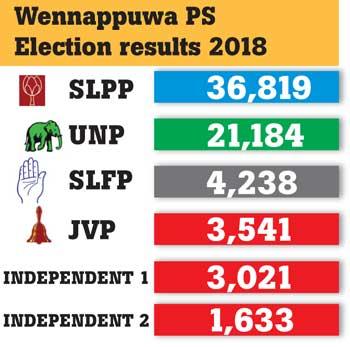 By Muqaddasa Wahid
The Election Commission (EC) is yet to resolve reported discrepancies in the results of two wards in Wennappuwa in the 2018 Local Government (LG) elections, a Commission member said. The discrepancies were disclosed in a complaint by Sri Lanka Podujana Peramuna (SLPP) member Sanjaya Hewawitharana to Elections' Commissioner Mahinda Deshapriya in February 2019, Commission member Prof. Ratnajeevan Hoole said.
"They actually forgot to tally the votes from one voting area, and this inconsistency was noted by the SLPP member," Prof. Hoole said. He added that although an inquiry had been conducted for months, no report had been published. Head of the Inquiry Committee, Colombo District Secretary Sunil Kannangara said the report was expected to be submitted in April 2019, but not done, despite repeated reminders from the EC.

Meanwhile Mr. Kannangara said they had recorded statements from officials in the disputed wards, and that the inquiry was still ongoing. "We requested an extension from the EC because we are now busy with the Presidential Election. After the election, the committee will meet again and finalise the report by the end of November," he said.

Prof. Hoole noted that following the complaint, the EC had called for a review on the LG results in other districts. One discrepancy was reported from the Mullaithivu District, but there was no change to the result after correcting the count. However, in Wennappuwa, Prof. Hoole said if the results were revised, there could be a change in result. But Mr. Kannangara said he was unable to say if a change would occur, as the inquiry was still underway.