---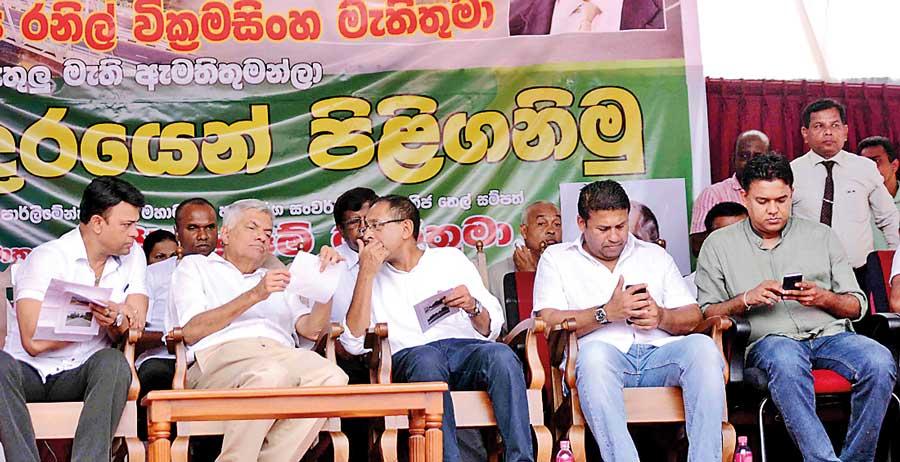 By Yohan Perera and Bandara Jayaratne
Prime Minister Ranil Wickremesinghe said yesterday that the government will bring in a complete road development project to all parts of the country at the opening of the Hemmathagama- Gampola Road in Mawanella.
He said this will be launched after the budget. "Our plan is to bring in a complete development of roads to all parts of the country. I inquired from the minister as to whether there are any more roads to be done. The Minister said there are 1000km of roads to be done. I told him that it will take four years to complete everything. "We will have to open the road which we do during this era. We will have to open the others during our next term. We will open 200 roads per week for the next few months. We found out that roads have been done up randomly when we took over," he said.

He said the foundation stone was laid to construct the Southern Highway in 2003 while initial work of the Southern Highway was started. Then the government was changed and the work was done without a plan by the government which came to power. Today there is a network of roads from Hambantota to Kandy.

"We will construct roads in and around Colombo. We will set up a road from the Port, elevated highways and a light train. Asian Development Bank had set plants to construct a Road from Kurunegala to Trincomalee. Indian government will assist us to construct a road from Trincomalee to Mannar via Vavuniya. We will focus on these projects now. Then there will be free trade zones, tourism projects. Government work according to a plan and different programmes which goes from rural level to national level have already begun. Following the highways there will be other main road funded by the Ministry, then there will be roads which will lead to villages funded by Gam Peraliya, finally there will be small roads which lead to your house with the Gamata Koatiyak Fund of the National Youth Council. This is our plan," he also said.