---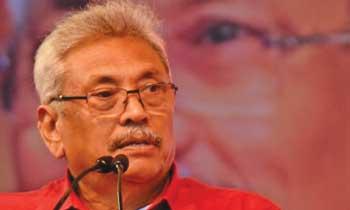 By Lahiru Pothmulla
SLPP presidential candidate Gotabaya Rajapaksa yesterday assured to resolve salary anomaly issues of security forces personnel and to grant due privileges to them.
Speaking at a rally in Ampara as a part of his election campaign trail in the Eastern Province, Mr. Rajapaksa said only a government led by them could ensure the national security and not by a government which gives into pressurise of the NGOs with vested interests.

"Today, false news are spreading among the security forces personnel. I gave you certain privileges as the defence secretary. Rest of the anomalies will also be resolved and privileges will be given to you," he said. He said the Civil Security Department personnel were deployed in development projects in the aftermath of the war only with their consent. "The companies paid handsomely to these volunteers. However, today they are being deployed without any extra payment. We will put an end to this practice. You know who strengthened you and provided a better service. We know you won't fall prey into false reports," Mr. Rajapaksa said.

Meanwhile, SLPP Leader and Opposition Leader Mahinda Rajapaksa said the incumbent government cannot be trusted. "The cost of living is sky-rocketing. The government continue to sell the projects we created such as the Hambantota Port. None of this government's actions are people friendly," he said.