---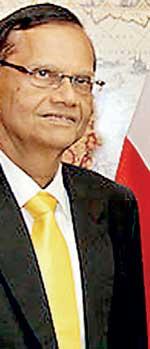 By Lahiru Pothmulla
Various court cases and false legal arguments are being made to disrupt the presidential candidacy of Gotabaya Rajapaksa, but these arguments cannot prevent his political journey, SLPP Chairman Professor G.L. Peiris said yesterday.
Addressing a news briefing, he said these were attempts of conspiracy by political opponents who could not challenge Mr. Rajapaksa in the political arena.

"This is a systematic operation by Mr. Rajapaksa's political opponents. These opponents have not challenged Mr. Rajapaksa's stable and effective policies presented to develop the country. No impotent government can prevent Gotabaya's journey. As a law professor, I assure that this government can't prevent Mr. Rajapaksa's journey in this manner," he said.

Commenting on the remarks made by former Solicitor General Suhada Gamlath that politicians influenced him to arrest Gotabaya, he said no politician had the authority to summon officials to Temple Trees to influence them over court cases.

"Now the entire country knows under which circumstances that cases were filed against Gotabaya Rajapaksa in 2015. The premier has no right to summon such officials to Temple Trees. This is clear evidence of politicians intervening in the legal system to remove Gotabaya from politics," he said.
No impotent government can prevent Gotabaya's journey. As a law professor, I assure that this government can't prevent Mr. Rajapaksa's journey in this manner