---
They asked me to say that Namal and Gotabaya told me over the phone to brush the investigations under the carpet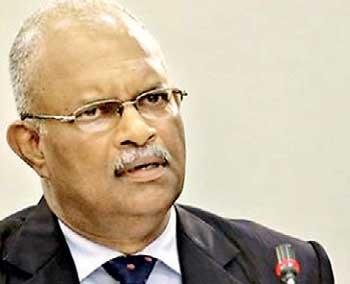 Former Crime Branch OIC at the Narahenpita Police A. D. Sumith Chammika Perera yesterday alleged former CID Director Shani Abeysekara and several other officers coerced him to entangle Gotabaya Rajapaksa and Namal Rajapaksa in the Wasim Thajudeen investigation.
Speaking at a news briefing oganised by Sathya Gaweshakayo Organisataion, Mr. Perera said he launched a probe over the Thajudeen incident after informing higher officials within a legal framework in 2012.
"When looked into find the last place where the deceased was at before he came and what he did, I received information that he was at F5 unit at the Anderson Flats where he and two others were consuming alcohol until around 11.45 pm. One was Thajudeen who was killed and two others," he said.
He said he was transferred as Nelliady Police OIC in Jaffna in 2015 and during that time a CID Sergeant called him and said a statement was needed to be recorded.
"I came to the CID at least 15 times from Jaffna and after three, four days, they told me that what they needed was the names of Namal and Gotabaya. They asked me to say that Namal and Gotabaya told me over the phone to brush the investigations under the carpet.

I received no such directive from anyone. I was summoned to CID two days later. What they did was wasting peoples' time. During the last two days, an ASP named Weerasekara, another one named Tissera, Shani and Director CID Nagahamulla threatened me to pronounce the names," Mr. Perera said.
He said he was arrested for not doing what he was asked to and said had he done what he had been asked, he would have to leave the country like Nishantha did.
"After I was released, I wrote to the IGP, Human Rights Commission, President's Secretariat, PM's Office but there was no response. The IGP said he was unable reinstate me because I didn't do what they had asked me to do," he said adding he would take legal action against the injustice caused to him.
When asked why he couldn't come up with the information before, he said he was afraid to do so.

Meanwhile, Sathya Gaweshakayo Convenor Attorney-at-Law Premanath Dolawatta said Mr. Perera was named a suspect, and therefore, he could not reveal these information. "Now he is released from the case," he said.