---
To be transferred to Kandakadu
Moved from Mahara to Welikada
Victim known as top detective in Rajapaksa probes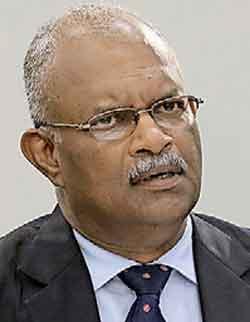 By Nirmala Kannangara
Former CID Director Shani Abeysekara has tested positive for Covid-19, and has been relocated from the Mahara Remand prison where he had been held since July 31, when he was arrested by the Colombo Crime Division (CCD), and plans were afoot to transfer him today to the Kandakadu Covid-19 Hospital in Welikanda, Polonnaruwa, sources said.
A senior prison official confirmed to Daily Mirror that Abeysekara, who had been held under isolation in Ward 1 of the Mahara Prison Hospital, received a positive Covid-19 PCR test result at approximately 10.00 pm on Tuesday (24).

Abeysekara had been randomly tested after three Covid-19 positive inmates had been admitted to Ward 8 of the Mahara prison hospital, the official said. Prison authorities were baffled as to how Abeysekara, who has had extremely limited contact with other inmates and prison staff, was able to contract Covid-19. Shortly after receiving the positive test result late Tuesday night, Abeysekara was transferred to the Welikada prison hospital, where he was subjected to a second PCR test, the result of which was pending at the time of publication.
Abeysekara's wife, several members of Parliament and former Speaker Karu Jayasuriya have all voiced grave concern about Abeysekara's security, citing threats to his life that existed even before he was taken into custody. On November 7, Abeysekara's wife, in a letter addressed to several senior government officials including the Chief Justice, Attorney General, Inspector General of Police and Commissioner General of Prisons, warned of a serious threat to Abeysekara's life from powerful individuals who he had investigated, including those who had orchestrated the murder of inmates while they were in custody.

In her letter, Kamani Abeysekara stated that these officials had a duty to safeguard the life of a police officer like Shani Abeysekara, who she said had devoted over 30 years of service to save the lives of so many others and to solve several grave crimes, including murders, kidnappings and terrorist attacks.

On November 13, Karu Jayasuriya, as Chairman of the National Movement for Social Justice (NMSJ) warned about a powerful group 'calling for Abeysekara's blood' and warned the government to take necessary measures to protect Abeysekara.

At a press conference on Tuesday (24), opposition MP Harin Fernando expressed suspicions as to whether Abeysekara's positive test result was genuine, or merely a pretext to do him harm.