---
Directed by DS, Thimbirigasyaya to vacate premises by 30th September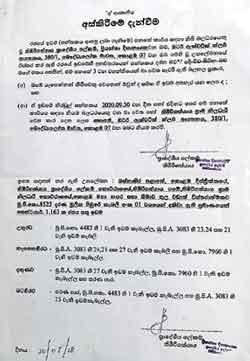 By Chaturanga Samarawickrama
A leading Colombo Seven sports club, the Otter Aquatic Club has been issued with a notice to vacate its current location on Bauddhaloka Mawatha by the Divisional Secretary, Thimbirigasyaya.

The notice dated August 18 had been issued under the hand of the Thimbirigasyaya Divisional Secretary Priyantha Dissanayake. The notice makes mention of an illegal ownership of State property by the club.

When contacted, General Secretary Otter Aquatic Club Anusha Rodrigo told the Daily Mirror last night that they will make a formal statement regarding the matter today (20).
The eviction notice states that the occupants, Otter's Aquatic Club, should hand over vacant possession of the property to the Divisional Secretary, Thimbirigasyaya or the Grama Niladhari, Thimbirigasyaya, on or before the 30th September, 2020.The directive is issued to the President of the Club.

Social media sites were seen circulating the notice and the related news yesterday.