---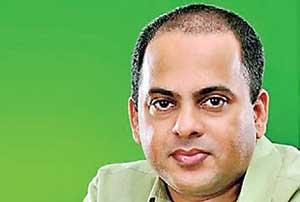 By Yohan Perera
Denying ministerial portfolios to some of the SLFPers who got the best portfolios during the Yahapalana government is a welcome move, Samagi Jana Balawegaya (SJB) MP S. M. Marikkar said yesterday.
Mr. Marikkar told a press conference that he is happy about the decision by the President not to give ministerial portfolios to some SLFPers who got the best in the Yahapalana government. Some are saddened about this move but I am happy about it," Mr. Marikkar said.

"I am particularly happy about denying a ministerial portfolio to former Minister of Petroleum Resources Chandima Weerakkody as he did not give any employment opportunity to a single UNPer in Kolonnawa. "These SLFPers must be under the curse of UNPers," he added. Also, the SJB MP said it was an excellent move by the Minister of Sports to appoint a Sports Council. "It is our duty to appreciate the good deeds of the government therefore we commend Mr. Rajapaksa for the good thing he has done," the MP said.

At the same time, he said the 'One Country One Law' concept envisaged by the government should be implemented with great care. "When one thinks of this concept it is essential to consider the Thesavalamai law. The Kandyan Law and the Muslim Law which people practice in their personal capacity while the government also should be careful not to implement a concept of 'One Country one law and one party," he said.
It is our duty to appreciate the good deeds of the government therefore we commend Mr. Rajapaksa for the good thing he has done