---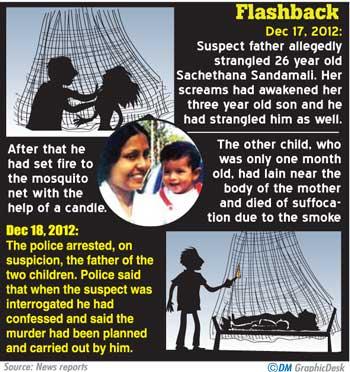 By T. Farook Thajudeen
Colombo High Court Judge Vickum Kaluarachchi imposed death sentence on a murder suspect - Madura Manaranga De Silva for killing his wife and two children.
His wife 26 year old Sachethana Sandamali, a teacher of Prince of Wales College Moratuwa and her two children, three year old Prabash Banuka and one month old infant son Krishantha Sandaruwan were killed at Ratmalana on December 17th, 2012 by strangling and thereafter setting fire to their bodies.

The suspect was convicted on three charges for the killing. The judge observed that the prosecution case against the convict was proven beyond reasonable doubt by Deputy Solicitor General Deleepa Piris who appeared for the prosecution during the trial.

Judge Kaluarachchi on his address to the court said that the convict's confession made before the Mount Lavinia Magistrate had proven that the convict had committed the murders even though the convict later denied it during the trial before the High Court. He also said that the convict had premeditated to kill his wife due to his extramarital affair with a woman in Negombo.

The Judge underscoring the convict's confession and said that the convict had admitted that he strangled his wife and killed her and admitted that when his elder child raised cries he attempted to make him quiet and strangled the elder child where the child died because of suffocation.

The Judge also emphasized the fact that Colombo South Hospital, Kalubowila JMO had confirmed that the deaths of the convicts wife and elder child were caused by strangulation and the death of the one month old infant was caused by burning.Therefore Judge Vickum Kaluarachchi observed that the three deaths are homicide. death. The killing took place on December 17th, 2012 morning inside a room in a two storeyed house at Golumadama Junction in Ratmalana where the deceased and her two infant sons were found dead in their bedroom with burn injuries. A Police team led by Mount Lavinia ASP Kamal Pushpa Kumara carried out the investigations. It was also revealed that the convict had fabricated a story to believe that the deaths were due to burn injuries. It is learnt that the husband after killing his wife and the elder child by strangulation had set fire to the mattress keeping their dead bodies on it.
The judge observed that the prosecution case against the convict was proven beyond reasonable doubt
It was also revealed that the convict had fabricated a story to believe that the deaths were due to burn injuries