---
Calls for probe on Christian pastors involved in such activities
Asks for a legal mechanism to regulate their activities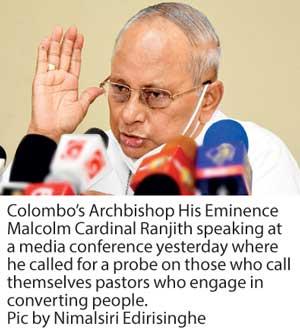 By Yohan Perera
Colombo's Archbishop His Eminence Malcolm Cardinal Ranjith yesterday asked for a probe into those individuals who identify themselves as Christin pastors and indulge in unethical conversions targeting celebrities such as artistes, sportsmen, accomplished women and businessmen.
He stressed the need to work out a legal procedure to regulate the activities of 'such persons'.
Cardinal Ranjith who highlighted this issue in a news conference yesterday urged the government to watch over these persons who call themselves pastors and probe their international masters and institutions funding them. He asked the government to examine their qualifications and what kind of training they had undergone as preachers.
"The Roman Catholic church has a certain administration structure, a regulatory system, an internationally accepted leader. The members of the clergy are probed whenever allegations are made against them. However if a probe is not conducted on these so-called pastors, it will affect the harmonious relationship among different religions in this country. There is no transparency when it comes to the activities of these persons," Cardinal Ranjith said.