---
Permissible carcinogen level is 30 micrograms per kilo
Plans are in place to bring it down to ten

It is a toxin causing liver cancer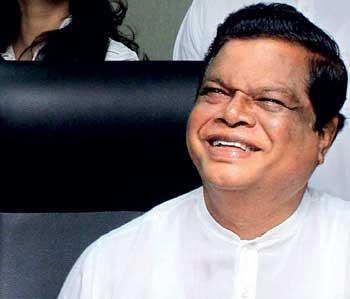 By Kelum Bandara
The presence of carcinogens in the controversial consignment of edible oil has been confirmed for the second time, and it has not been released to the market despite allegations to the contrary, Trade Minister Dr. Bandula Gunawardane said yesterday.
The Minister told a news conference in the presence of the relevant officials from Sri Lanka Standard Institute, the Health Ministry and Sri Lanka Customs that the first sample testing confirmed it, and afterwards, the importers were ordered to re-export it.

However, he said there is every right for such importers to ask for testing for the second time.
"After second testing, the presence of carcinogens was confirmed. Therefore, it won't be released to the market. The opposition is carrying out false propaganda. Also, traditional coconut oil manufacturers accuse of edible oil of inferior quality in the market. It is not true. They have a duty to prove their allegation with substance. If they come up with concrete evidence, we are ready to act," he said.

A top health official who insisted on anonymity said the permissible limit of carcinogens in food items imported to Sri Lanka is 30 micrograms for one kilo. In this consignment, it has been much higher than the permissible limit.
He said the permissible level is less than ten micrograms per kilo in some European countries, and Sri Lanka had planned to impose regulations lowering it to such levels in the future.

"We want to make it ten micrograms per kilo here," he said .

Carcinogen is a toxin causing liver cancer. ``
Traditional coconut oil manufacturers accuse of edible oil of inferior quality in the market. It is not true