---
Epidemiology Chief says new Covid cluster could emerge in the country through unidentified patient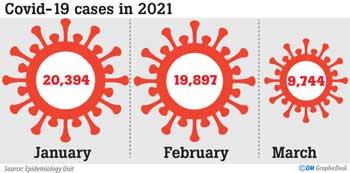 By Sheain Fernandopulle
The notable decrease in daily COVID-19 cases does not reflect the overall trend of the pandemic situation in the entire country, Chief Epidemiologist Dr. Sudath Samaraweera said.
He told media that there is always the possibility of a new COVID-19 cluster emerging in the country through an unidentified COVID patient in the country.

"This becomes evident with the COVID-19 patients being detected in the Jaffna District," he said.
Meanwhile, Dr. Samaraweera said the country could face a high risk situation if people did not adhere to basic health rules.

"This is mainly due to the fact that the general public does not follow health practices. People are seen gathering in public places including places of worship and shopping malls without following health guidelines," he said.
He also emphasised that many people had attended religious ceremonies at temples across the country on Poya Day without wearing proper face masks and maintaining social distance.
Dr. Samaraweera urged the public not to gather in large numbers in public places and to strictly abide by the health rules whenever they enter a public place.
Many people had attended religious ceremonies at temples across the country on Poya Day without wearing proper face masks and maintaining social distance