---
The United States (US) Ambassador to Sri Lanka Alaina B. Teplitz expressed disappointment after Prime Minister Mahinda Rajapaksa backed away from an announcement that burial of Covid victims will be permitted.

US envoy disappointed with PM

Teplitz tweeted yesterday saying it was disappointing to see that the Government and Prime Minister Mahinda Rajapaksa are backing away from ending the discriminatory cremation policy.

"People, including loved ones recently passed, deserve more respect for their rights from a democratic Government," the Ambassador tweeted.

Last week, Prime Minister Mahinda Rajapaksa informed Parliament that the burial of COVID victims will be permitted.

However, State Minister for Primary Healthcare, Epidemics, and COVID Disease Control Dr. Sudarshini Fernandopulle told Parliament the burial of the remains of COVID victims in Sri Lanka will be allowed only if the Expert Committee appointed by the Health Ministry approves it.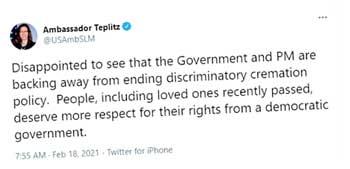 State Minister Fernandopulle said the Health Ministry's Expert Committee is vested with the powers to take decisions on COVID-related matters and so the decision on burials will also be taken based on the recommendations of the Expert Committee.

Cabinet co-spokesman Minister Udaya Gammanpila said this week that a final decision on the matter will be taken by the Director General of Health Services Dr. Asela Gunawardena. (ER)
QUOTE

People, including loved ones recently passed, deserve more respect for their rights from a democratic Government