---
Heated argument ensued over a personal matter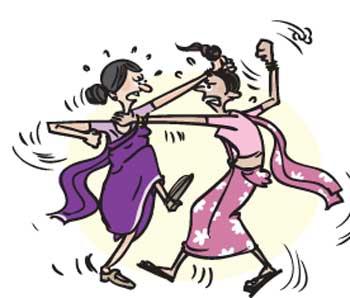 By Dayaratne Embogama
A lady teacher was severely beaten by another lady teacher in the presence of the Principal of the school they teach in Kahatagasdigiliya, over a personal dispute.
Kahatagasdigiliya Police has begun investigations to arrest the lady teacher for allegedly beating one of her colleagues and causing injuries.

These two teachers were involved in a brawl on Friday during school hours in front of the principal following a heated argument which ensued over a personal matter. The injured teacher Nimani Anupama Suraweera, a resident of Konewewa Road in Kahatagasdigiliya has been transferred to Anuradhapura Teaching Hospital for further treatment after she was first admitted to the Kahatagasdigiliya Hospital. The assailant teacher has been identified as a resident of Galkiriyagama. OIC Kahatagasdigiliya Police Chief Inspector Pradeep Manjula Udumalagala said investigations are underway to take the assailant teacher into custody. She had reportedly gone to Colombo to attend a private matter.