---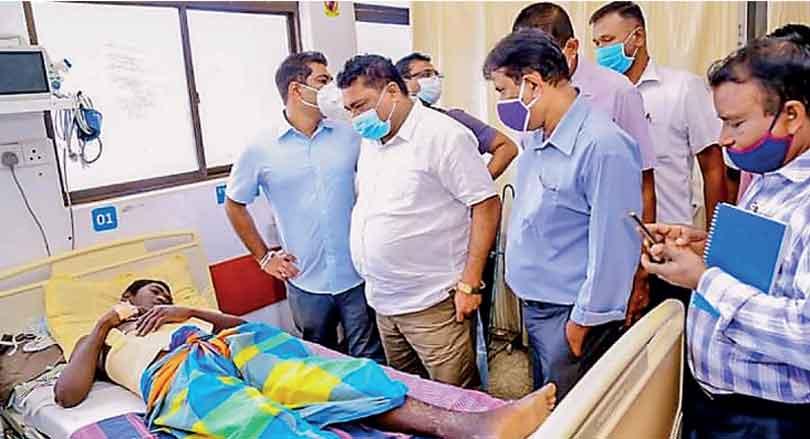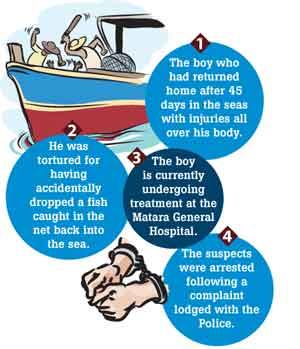 By Darshana Sanjeewa Balasuriya and Krishan Jeewaka Jayaruk
Five suspects, including the owner of a multi-day trawler, had been arrested in connection with the alleged assault and torture of a 16-year-old boy in the seas off Mirissa, police said.
Police Spokesman SSP Jaliya Senaratne said yesterday the youth, a resident of Mirissa, who had gone for fishing on June 28, was reported to have been physically tortured aboard a multi-day fishing vessel at sea allegedly by the crew members.

The boy who had returned home on August 12 after 45 days in the seas with injuries all over his body had told his parents that he was tortured for having accidentally dropped a fish caught in the net back into the sea.

It was reported that the boy was physically abused allegedly by the crew since the incident. Police said the boy was also assaulted, claiming he was eating too much food.
The boy is the eldest in the family of five and his father is said to have abandoned his mother when he was a kid.

The boy is currently undergoing treatment at the Matara General Hospital.

The suspects were arrested following a complaint lodged with the Police.

Police Spokesman SSP Senaratne said that according to the medical reports, the boy had been severely assaulted during the period he was at sea.

The Spokesman said that a separate investigation was launched on the owner of the boat to determine whether he had violated child labour laws and earned money irregularly by forcibly engaging children in the fishing industry.

"The Police will take action against the owner of the boat if found guilty," SSP Senaratne said.

The suspects were to be produced in the Matara Magistrate's Court.

Meanwhile, State Minister Kanchana Wijesekera who visited the child at the hospital stated that all necessary steps will be taken to prevent such incidents in future and that the licence of the relevant multi-day vessel will be suspended.

In addition, a special investigation is reported to have been launched by the Fisheries Ministry for allowing a minor to be engaged at sea for fishing.
according to the medical reports, the boy had been severely assaulted during the period he was at sea