---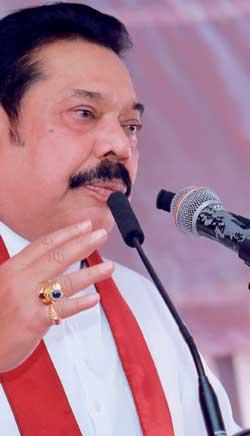 y Lahiru Pothmulla
Opposition Leader Mahinda Rajapaksa yesterday said he called for a parliamentary- level committee to probe the allegations made by Solicitor General Dilrukshi Dias Wickremesinghe and former Solicitor General Suhada Gamlath over political influence.
Mr. Rajapaksa expressed these views while speaking at the National Convention of the Sri Lanka Mahajana Pakshaya which was held in Kurunegala last morning. He said the attention had been drawn to interdict one Solicitor General and to remove the other over the allegations they had made. But no attention has been drawn to probe the allegations and revelations itself. Therefore, he called for a parliamentary level committee to probe the allegations made by the officials.

He said the government was only focused on taking revenge from its political opponents and that the two Solicitor Generals had admitted that court cases against SLPP Presidential candidate Gotabaya Rajapaksa were politically motivated.

"These allegations must be investigated. SG Suhada Gamlath clearly made these allegations. The drama staged at Temple Trees after forming an illegal and a bogus committee of accomplices is a crime. If someone was punished even for a day for a false court case, it is a crime too. That was why the Police and the AG's Department have been given the authority to look into these allegations. No other government had acted in a vindictive manner like this one. We never sought revenge from family members of Premadasa who brought currency notes in bundles. Those who spoke of making Gotabaya wear jumpers came so close to end up in one during this government's tenure itself," he added.