---
First stage will start on Sep. 2 from grade 6 to 13 and all primary sections will start on September 8 as the second stage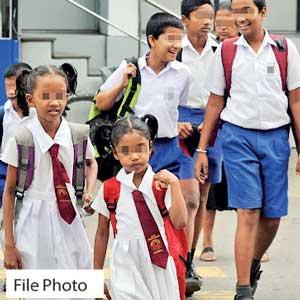 By Chaturanga Samarawickrama
The Education Ministry had decided to commence all schools including the primary sections from September 8 according to the recommendations of the Health Ministry, Education Ministry Secretary Prof. Kapila Perera said.
He told Daily Mirror that the Ministry had decided to start schools in two stages.

"The first stage will start on September 2 from grade six to thirteen and all primary sections will start on September 8 as the second stage," he said. Earlier, the Ministry had decided to commence the grades 10, 11, 12 and 13 to the normal timetable of 7.30 a.m to 1.30 p.m from September 2 and the schools continued starting at 7.30 a.m and end at 3.30 p.m until the end of August. Schools were held for five days a week only for grades 5, 10, 11, 12 and 13. Schools for grades 1, 2, 3, and 4 were held only one day a week, Prof. Perera said.

Meanwhile, it had decided to bring students to the school based on the number of students in the schools.

Accordingly, all schools will commence from September 8 from the day the schools in the country held before March 11, Prof. Perera added.