---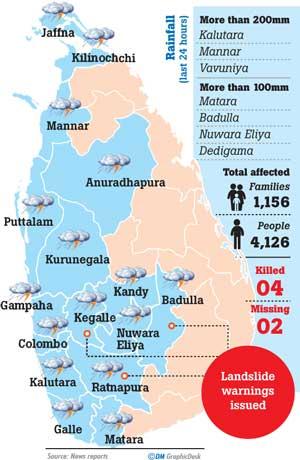 By Yohan Perera, Prasanna Pathmasiri and Nishantha Kumara
At least four persons have been killed and two others were missing as a result of a adverse weather conditions including landslides, Disaster Management Centre (DMC) said yesterday.
DMC Spokesman Pradeep Kodippili said bodies of two persons who had died as a result of the landslide in Walapane were recovered last morning. He said two others are still reported to be missing.

He said landslide warnings have issued in the Districts of Badulla, Kegalle and Ratnapura as a result of the rainy weather which is expected to prevail during the coming days. He said people in the said areas should watch out of sudden cracks on walls, water sprouts which appear suddenly and cracks on the soil. "One has to evacuate as soon as possible if such changes are noticed".

He added that traffic on several roads in Puttalam, Badulla, Anuradhapura, Kurunegala and Batticaloa Districts were blocked as a result of earth slips and flooding. Around 2,000 were affected by the adverse weather conditions.

Several areas have received a rainfall of more than 200 mm with some areas in Kalutara receiving a rainfall of 239 mm, Mannar 231 mm, Vavuniya 235mm. Other areas including Matara, Badulla, Nuwara Eliya, Dedigama received a rainfall of more than 100 mm as per the data put out by the DMC.

Water levels of several reservoirs including Attanagalu Oya and Kalu Ganga were overflowing while sluice gates of Rajangana, Udawalawa, Ulhitiya, Thabbowa, Angamuwa, Deduru Oya, Upper Kotmale and Kukule Ganga were opened as of yesterday.

The Department of Meteorology said prevailing showery condition over the island (particularly in Northern, North-Western, Western, Sabaragamuwa, Central and Southern Provinces and in Anuradhapura District) will continue in the coming days. Heavy showers about 100-150 mm were expected in Northern, North-Western, Western, Sabaragamuwa, Central and Southern provinces and in Anuradhapura District. (Particularly in Jaffna, Kilinochchi, Mannar, Puttalam, Kurunegala, Gampaha, Colombo, Kalutara, Ratnapura, Kegalle, Kandy, Nuwara-Eliya, Galle, Matara and Anuradhapura Districts)
Landslide warnings have issued in the Districts of Badulla, Kegalle and Ratnapura