---
Warns serious environmental damage over improper disposal of used face masks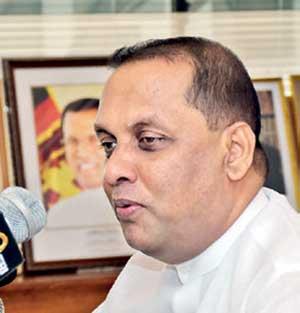 By Darshana Sanjeewa Balasuriya
While warning that there could be serious environmental damage in the future if face masks were not disposed of properly, Environment Minister Mahinda Amaraweera yesterday revealed that 495 tonnes of masks had been imported between March 17 and October 31, 2020 costing Rs. 140 million.
He said if masks were disposed of improperly the Covid-19 virus could spread into water bodies and would increase the infection in the future.

"The health sector has reported that about 100 companies have been approved to import 15 million KN 95 masks by the end of November, so the seriousness of the situation is understandable," the Minister said.
Addressing a media briefing held at the Ministry, he said that several factories had been set up to manufacture face masks in the country and all these could create serious environmental problems in the future.
Meanwhile, Secretary to the Ministry, Dr Anil Jasinghe said that the Central Environmental Authority (CEA) had submitted a series of guidelines to local government bodies on the proper disposal of face masks.

However, it should be regulated by the Ministry of Health as to whether they were disposed of properly and in future the Ministry of Environment and the Ministry of Health would take steps to implement this mechanism extensively, he said. Meanwhile, Himantha Randiva Wimalaratne, a student of Ananda College, Colombo, presented to the Minister a new invention that he claimed could destroy contaminants, including a face mask, which destroys the Covid-19 virus.