---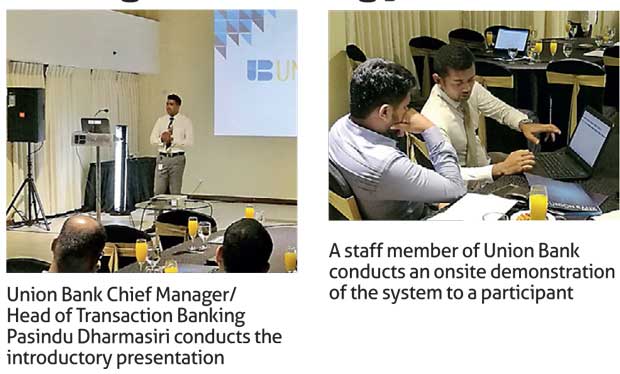 Union Bank recently hosted its small and medium enterprise (SME) clients in the Colombo region to an educational session on Union Bank Biz Direct.
The event was well received by the attendees and commenced with an introductory presentation focused on Union Bank Biz Direct, the novel transaction banking solution, followed by an onsite live demonstration of the system and its applications. The proceedings concluded with an evening of networking and cocktails.
Union Bank Biz Direct enables business owners to optimise their business operations and cash flows while facilitating a multitude of banking services with easy access to their bank account from anywhere at any time.
Union Bank Biz Direct is designed with a deep understanding of the specific business dynamics of the corporate/SME sectors and is customisable to meet the specific payment requirements of diverse industries. Secure control is deeply entrenched to the system, so that businesses could customise the level of employee access to company accounts while ensuring real-time payment facilities with utmost convenience.
The system is also a more affordable solution in comparison to alternative solutions available in the market, thus offering a distinct advantage to SMEs by opening up an avenue to reap the advantages of the latest and most cost-effective banking technology to develop their businesses.
The bank intends to extend this knowledge-building initiative to other areas in the country, in order to support the SMEs to enhance their knowledge on emerging technologies and banking solutions that support the optimization of their business operations.