---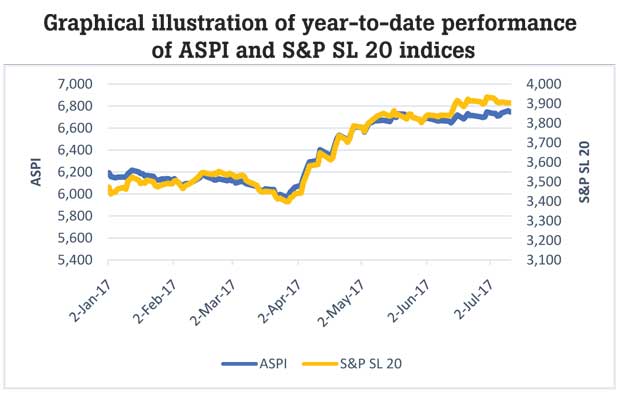 The Colombo Stock Exchange (CSE) has recorded a noteworthy turnaround in the first half of 2017, having started the year on the back of a slow-moving 2016. The Benchmark All Share Price Index (ASPI) has made consistent gains to record an 8.23 percent gain year-to-date, and as of 17th July stands at 6,741.07.

The S&P SL 20 index, which features the CSE's 20 largest and most liquid stocks has also improved consistently, making a 11.03 percent gain in 2017 (year-to-date) and closing at 3,882.14 points as of 17th July.

The growth of the indices in 2017 reflects a reversal of the declining trend from a 9.66 percent and 5.54 percent decline in the Benchmark ASPI index in 2016 and 2015 respectively.

Overall trading activity has also improved in 2017, with the Daily Average Turnover recorded for 2017 (year-to-date) marking an improvement to Rs. 911 million from Rs.737 million
in 2016.
Spurred by foreign activity
The market in 2017 has garnered a keen interest among foreign investors, with net foreign inflows for 24 consecutive weeks recorded from the first week of February onwards. In another remarkable development, the foreign purchases figure recorded for the first half of 2016 (January – June) amounting to Rs. 31.5 billion has doubled during the first half of 2017 to Rs. 62.6 billion - an all-time high for foreign purchases in the first half of a calendar year.


2017 so far, has marked a net foreign inflow of Rs. 23 billion, an improvement compared to previous years, which recorded an inflow of Rs. 383.5 million in 2016 and an outflow of Rs. 5.3 billion in 2015. The year 2012 holds the record for the highest ever net foreign inflow recorded in a calendar year, where net foreign inflows of Rs. 23.2 billion after the first six months went on to improve to a record Rs. 38.6 billion by the end of 2012.

The Central Bank of Sri Lanka, in a recent release on the external sector performance has acknowledged that the financial account of the Balance of Payments was supported by continued foreign inflows to the CSE and the government securities market in
April 2017.

Where do foreign investors stand in terms of the larger picture?
Foreign investor contribution to total turnover in 2017 stands at 47 percent, an improvement in comparison with 42 percent in 2016 and 34 percent in 2015 and having crossed the 50 percent mark for the first time since 2008 in April this year. An attractive market valuation (P/E) compared to regional peers, growing corporate earnings among listed entities and a strong performance of the ASPI compared to leading indices are defining factors in attracting foreign investments to the Sri Lankan capital market.

Commenting on the development, CSE CEO Rajeeva Bandaranaike stated "Growth in foreign activity is certainly encouraging and goes on to indicate that foreign investors have identified an opportunity in the Sri Lankan stock market. Such interest is an expression of confidence in the future potential and growth of our market and makes a strong case for improved involvement among local institutional and retail investors."