---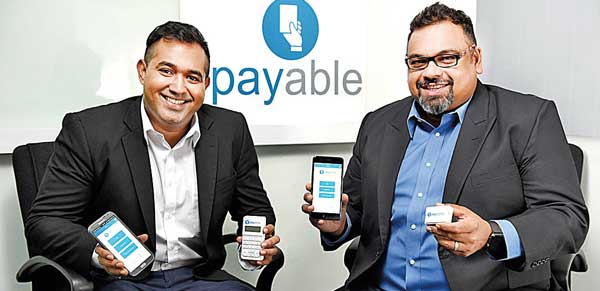 A revolutionary new model in cashless mobile payments is set to create a small and medium enterprise (SME)-led transformation in the Sri Lankan economy with the launch of PAYable, a free Bluetooth card reader and mobile phone app.
Developed by CBA Solutions (Pvt.) Ltd, PAYable is led by two pioneering Sri Lankan technology entrepreneurs who believe that breaking barriers for individual, micro and SMEs will dramatically increase the earning power of this sector while unleashing a new wave of economic activity into the Sri Lankan market. "Inclusive growth is the driving force behind PAYable.
Imagine merchants of any size gaining the power to accept card payments for their businesses but without the deterring costs that they would typically face, this could be a real game changer for them," explained CBA SolutionsCo-Founder and Chief Executive Officer Sujith Subasinghe. A Sri Lankan tech entrepreneur, who started his first business while attending the University of Victoria in British Columbia, Canada, Subasinghe developed experience building IT-based solutions for a range of industries spanning the music, entertainment, advertising and healthcare businesses before setting up a software development team with fellow Sri Lankan, Yohan Wijesiriwardane, who now serves as CBA Solutions' Chief Operating Officer. Subsequently, collaborating with Ceylon Business Appliances – a trusted supplier and service provider of office appliances for over 45 years – the duo was keen to crack a solution to the financial exclusion of SMEs.
It is currently estimated that over 50 percent of Sri Lankan gross domestic product (GDP) is generated by SMEs, which account for approximately 80 percent of all businesses in the country, and provide employment for as much as 35 percent of the country's total labour force. Particularly when evaluated in combination with micro and individual enterprises, the fact that such businesses are limited solely to cash transactions has been a long-standing competitive disadvantage. In that context, the creation of a costeffective card acceptance solution that is capable of removing all cost barriers for individual, micro and SMEs to enter the cashless payment space holds immense potential for merchants of all sizes and the Sri Lankan economy at large. In addition, it offers convenience to customers, helping to move Sri Lanka closer to a cashless economy.
PAYable will be distributed as a free mobile app paired with a free Bluetooth Card reader that will enable vendors to accept VISA and MasterCard credit and debit card payments.
A highly reliable, durable and compact card reader, PAYable can be paired with any smartphone or tablet to effectively convert a standard Android or iOS device into a secure, flexible and easy to use mobile point-of-sales (POS) solution. Designed using best in class security protocols, such as the PCI DSS Guidelines – a global security standard developed by VISA, MasterCard and other major card providers – PAYable is built within a secure network that is regularly monitored and tested in order to maintain the strictest standards of information security and protection of cardholder data.
The solution has already garnered significant interest among Sri Lanka's banking sector with several major Sri Lankan banks having already entered into discussions with regard to the integration of PAYable as a value-added service. PAYable hit the market in February 2016 with devices being introduced to potential merchants, coupled with a communications campaign to reach merchants as well as customers.