---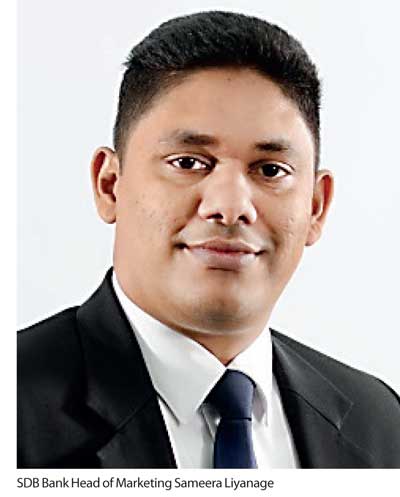 SDB Bank, which has taken the initiative to help future generations realise their dreams through some unique value additions, thereby partnering in the nation's development as well, has again stepped forward to show the world the real meaning of the World Children's Day.

Every year, on October 1, the World Children's Day is celebrated in Sri Lanka as well, in recognition of the younger generation that will take over the future of the world.
A child should be allowed to freely spend his or her childhood, to derive the real benefits. It is also essential that their health be protected and they receive an education that equips them to face a competitive world in the future. It is also very important that the savings habit be inculcated in them. The Lakdaru children's savings account of the SDB Bank has been tailored to fully meet these demands.

SDB Bank has made arrangements to provide various gifts and scholarship programmes to children who have Lakdaru accounts. Among the unique features of these children's account are: entitlement to 1 percent more interest than with ordinary savings account, entitlement to attractive gifts based on the account balance, students who excel at the Grade Five scholarship examination or GCE (O/L) and GCE (A/L) examinations being entitled with cash rewards up to Rs.50,000 and account holders who maintain a minimum balance of Rs.10,000 for a month being entitled to a medical insurance to the value of Rs.50,000 annually via a cashless card for hospitalization for any illness. Under this scheme, while a sum of Rs.5,000 per day will be paid in the event of hospitalisation in a private hospital, a sum of Rs.3,500 will be paid in the event of being hospitalised in a government hospital.
In the same way, the bank has launched a special Lakdaru promotion (subject to allocated resources) targeting the World Children's Day and Savings Month. For every new Lakdaru account being opened during this period, SDB Bank will provide a sum equivalent to the sum deposited by the account holder subject to a limit of Rs.1,000 and a sum of up to Rs.5,000 in respect of standing orders.

For a balance of Rs.1,000 in the Lakdaru account, which can be opened with Rs.500, your child will be gifted with an attractive world map with important information on the countries of the world, which will provide a wealth of knowledge necessary until your child completes schooling. Additionally, many more gifts including tills to encourage the savings habit, caps, valuable school bags, bicycles, dictionaries, tabs and laptops will also be given.
Similarly, every child SDB Bank account holder, who is successful at the Grade Five scholarship examination, will receive gifts, while those who excel at the district and all-island levels of Grade Five scholarship examination, GCE (O/L) or GCE (A/L) will receive cash rewards.

The Dayada investment certificate is another very special award that SDB Bank has introduced for the country's children. Through this, a child gets the opportunity to step into society at the age 18 with some economic stability. Sri Lankan culture emotionally bonds the parents and their children even after the children reaching their young adulthood. Parents tend to look after their child and support them financially as well. Due to these, pressure is built up among parents on how to take care of the children and their needs after they grow up. SDB Dayada is an ideal solution to release the parents' pressure since the guaranteed return will be a benefit for the child, even if the parent is employed or not, when the child grows.

Anyone who wishes to make a worthy endowment to an infant or a child can gift investment certificates. Based on the current market conditions, a new-born infant will have the unique opportunity to receive at age 18, up to five times the investment. Even if the interest rates in the banking sector were to change, the child will nevertheless be able to receive the sum contracted at the time they were issued. It need hardly be said as to how valuable this would be for a child who is about to step into the competitive adult world. It can therefore be said that the SDB Dayada investment certificate is one of the best awards that can be made to a child.