---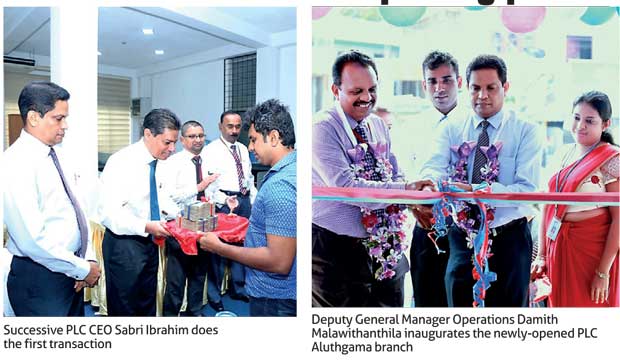 The leading non-bank finance company in Sri Lanka, People's Leasing & Finance PLC, upgraded and relocated two of its branches in Mathugama and Aluthgama.
The new branches were inaugurated by the successive PLC CEO Sabri Ibrahim along with Deputy General Manager Operations Damith Malawithanthila and PLC Senior Manager Priyanka Wimalasena. Also a host of PLC customers graced the occasion.
Malawithanthila addressing the gathering said People's Leasing Company operating with the motto 'People's Friendly Leasing' has attracted a gamut of prospective customers and converted them as loyal customers over the years.
"PLC is in the process of enhancing its branch network and relocating identified branches to bring more convenience to customers. We changed the locations of the Mathugama and Aluthgama PLC branches to provide customer-friendly, hassle-free and convenient leasing services," said the DGM.
He added, "Ours is a one-stop-shop. Hence, I humbly invite the people in the vicinities of Mathugama and Aluthgama to step into these relocated PLC branches and obtain all financial services pertaining to leasing and finance in a minimum possible time without hassle. I wish their businesses to thrive and personal lives to brighten up by associating with PLC.
We have been providing an unmatched financial service to all Sri Lankans for 14 consecutive years. Our intent is to enhance our service network to cover the whole island for the benefit of all citizens. A spacious and state-of-the-art branch in their nearest town that offers hassle-free services and convenience is our promise to PLC customers. PLC branches are being commissioned in almost every main city in the island with that object," he said.
People's Leasing Company was commissioned in 1995 as a wholly-owned subsidiary of the biggest state bank in Sri Lanka, People's Bank. PLC has retained the market leader in the non-bank finance sector in Sri Lanka.