---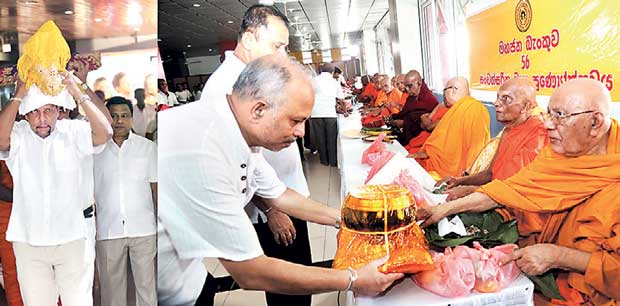 The moment when Member of People's Bank Board of Directors Jehan P. Amaratunga conveyed the sacred casket; CEO/ GM N. Vasantha Kumar offering alms to the Maha Sangha.

Hindu, Islamic and Catholic clergy conducting religious observances; CEO/ GM of People's Bank N. Vasantha Kumar and the members of the corporate and executive management are also pictured here
People's Bank recently held several religious programmes coinciding with the bank's 56th anniversary celebration.
A series of religious programmes were organized by the Buddhist Association, Hindu Association, Muslim Majlis and the Christians Guild of the People's Bank, in the premises of the bank's Head Office.
People's Bank Buddhist Association held an all night Pirith sermon on 30th June, and offered alms giving to 56 Buddhist monks on the following day. The religious program was held under the guidance of the Patron of People's Bank Buddhist Association -Chancellor of the University of Kelaniya, Chief Incumbent of Peliyagoda Vidyalankara Pirivena and Chief Sanghanayake of Colombo-Chilaw Division Ven. Dr. Welamitiyawe Kusaladhamma Thera.
Priest Siva Sri Dharshan Sharma of Siva Subramaniam Swami Kovil in Colombo 2 conducted Hindu religious observances organized by the bank's Hindu Association on
3rd July.
Islamic observances organized by the Muslim Majlis were conducted by Deshabandu Kari Faizal Hassan, Moulavi of Dawatagaha Jumma Mosque in Colombo on the same day.
The Christians Guild also organized religious observances at the People's Bank Head office on 3rd July, where a mass was conducted by Rev.Fr. Nilushan Fernando OMI, National Chaplain of the Lakrivi Children's Movement.
The religious programmes organized by the People's Bank invoked blessings to the country, people, customers, all leaders who spearheaded in establishing the People's Bank as well as past and present staff.
Corporate and executive management of the bank led by member of People's Bank Board of Directors Jehan P. Amaratunga, Chief Executive Officer/ General Manager N. Vasantha Kumar as well as the bank staff and the retired staff also participated in
the occasion.