---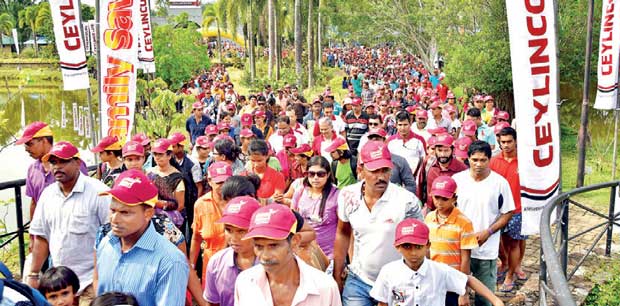 Nearly 2,000 Sri Lankans from every district of the country were united in a day of fun and frolic when the 10th edition of the Ceylinco Life 'Family Savari' programme got underway at the Leisure World theme park last week.
Comprising of 500 policyholders and members of their families, the group was the first set of winners selected by the life insurance market leader to be rewarded under the Family Savari initiative.
Given the run of the rides, slides and facilities of the theme park for the day, these families were treated to an experience that generated lifelong memories of quality time spent together. Adding to the excitement was the presentation of five aerial sightseeing tours by helicopter for five families selected at a draw at the location, and won by Ceylinco Life policyholders from Galle, Aralaganwila, Kamburupitiya, Kaduruwela and Maho.
This first phase of the Family Savari promotion for 2017 is to be followed by a series of all-expenses-paid overseas tours later in May and in June for another 260 people from 65 Ceylinco Life policyholder families – 50 families to Singapore, 10 families to Dubai and five families to England.
A total of 2,260 people win overseas holidays or the local excursion from Ceylinco Life every year through the Family Savari programme. The total number of people benefitted by the promotion to date is 20,000.
The Ceylinco Life Family Savari promotion has as its Brand Ambassadors the Sri Lankan actors Sriyantha Mendis, Sanjeewani Weerasinghe and Roshan Ranawana and his wife Kushlani who participate in the Savari outings and overseas tours. Over the past four years, Ceylinco Life has presented winners of the grand prize at the Family Savari with holidays in Paris (2013), Japan (2014), Switzerland (2015) and Germany (2016) Policyholders eagerly await the announcement of the new destination every year, when the promotion begins in August or September and concludes with the overseas tours the following year. All active long-term Ceylinco Life policyholders, holders of Ceylinco Life Retirement Accounts (CRAs) and new policyholders who purchase a policy, pay three months' premium and keep their policies active are eligible to win these holidays.
Depending on the size of their policies or the balances in their CRAs, some policyholders are eligible to qualify for the draws for all four categories of prizes.
The market leader in Sri Lanka's life insurance sector since 2004, Ceylinco Life has close to a million lives covered by active policies.
The company is acknowledged as the benchmark for innovation in the local insurance industry for its work in product research and development, customer service, professional development and corporate social responsibility.