---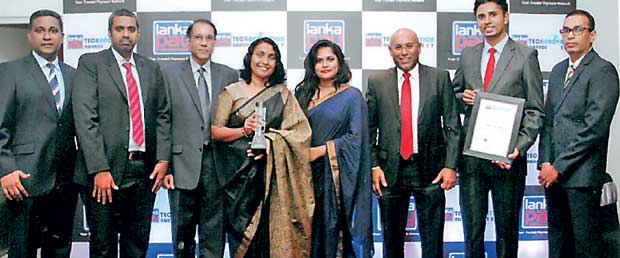 NDB was crowned Runner Up for the 'Best Mobile Payment Application of the Year' at the LankaPay Technnovation Awards 2017.

NDB within this short span of time has supported in changing the traditional means of banking and brought NDB's banking services to the customer's fingertips. With the NDB mobile banking app, customers now bank at their convenience and access their accounts and cards to carry out various secured transactions from any mobile device running iOS, Android or Windows.

The NDB mobile banking app also reached Rs. 1 billion worth of mobile banking transactions in 2017. The bank introduced its user-friendly mobile banking facility last year with the objective of bringing convenience and creating a trusted platform to carry out day-to-day banking needs, simply, via the
mobile device.

Over the last four months the bank saw an increasing number of customers using the app. NDB now bears witness to customers from many walks of life making use of its app to carry out their daily banking activities without a hassle. With the self-onboarding options available in the app, customers can register for mobile banking without having to visit a branch.

It has allowed customers to instantly pay their credit card billsof other banks that have registered for CEFT without the hassle of traveling. With the convenient facility of recharging mobile connections, customers easily recharge mobiles of their loved ones instantly from wherever they are at any time of the day.

The app has also brought in great convenience to busy travelers who need guaranteed security for their credit / debit card transactions. With the NDB Mobile Banking app customers now easily switch their credit / debit card on or off from wherever they are. With the many other options of banking such as fund transfers, paying utility bills andtransferring money to any other bank etc., customers now get more time to enjoy life without having to rush while saving both time and money.

The bank strongly believes in making financial services more accessible to the dynamic working population since they require the ability to access information 'on the move'. In an era where practically everything has made its way into the mobile and the internet, NDB has made it possible for the Sri Lankan banking sector to take a step forward in the digital arena by brining superior services through convenience and guaranteed security. NDB aims to enhance the app with timely features and add many more benefits to users in the near future.

The NDB mobile banking app has won many accolades in the past for 'Most Admired Mobile App' at the Asian Customer Engagement Forum (ACEF) Awards in Mumbai, Best Use of Mobile Technology (Banking Industry) and Best Use of Mobile Technology in Financial Services at the South Asian Business Excellence Awards by the South Asian Partnership Summit (SAPS) and the World HRD Congress, Best Mobile Banking App Sri Lanka Awarded by Global Finance Review England, and the Winner for Best use of Mobile under Financial Sector at SLT Zero One Awards for Digital Excellence 2016.