---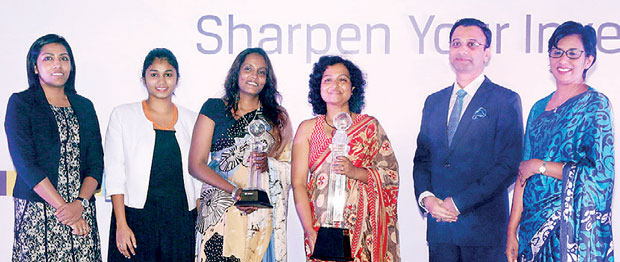 From left: Mifnaz Jawahar - Chairperson; CFA Sri Lanka Capital Market Awards 2017, Eshani Motha - Portfolio Assistant, Sonali Perera - Head of Ethics and Compliance, Christine Bandaranaike - Fund Manager JB Vantage Money Market Fund and CEO, Sharang Pant - Managing Director, Nielsen Sri Lanka, Rachini Rajapaksa - President; CFA Sri Lanka
JB Vantage Money Market Fund, part of the JB Financial portfolio, won Gold for Best unit trust for the second consecutive year at the recently held CFA Capital Markets Awards 2017.

The 'Best unit trust' award category was introduced for the 1st time last year.

The annual awards ceremony, now in its fifth year, is an initiative by CFA Sri Lanka to recognize and reward industry professionals who have established best practice benchmarks and spearheaded governance and ethics in order to advance the domestic capital market. The awards have quickly become a sought after event in the capital market calendar. While the primary criteria was risk adjusted return and investment process, the judges also paid attention to such factors as risk management and compliance practices, extent of fair disclosures to unit holders as well as emphasis on disclosure to unit holders and risk management and compliance practices of the firm.

JB Financial is an independent fund manager, managing portfolios for both individual and institutional clients. While relatively low profile, JB Financial is highly respected as a thought leader in the country's domestic capital market .They stand pre-eminent for the rigour of their market analytics and discerning insights. Consistency, risk mitigation, liquidity management and stewardship are hallmarks of their business model.

Expressing her views on receiving the prestigious accolade, CEO of JB Financial and Portfolio Manager of the winning fund, Christine Dias Bandaranaike, commented, "We are delighted to be honoured again as the Best unit trust in Sri Lanka by an eminent panel of industry professionals. We worked hard since our last win to further better ourselves, putting into practice last years' judges' comments for further improvement and it feels good to be recognized for having
done so."

JB Vantage unit trust began operations in August 2011. Its fund family includes the flagship JB Vantage Money Market Fund, together with JB Vantage Value Equity Fund and the recently launched JB Vantage Short Term Gilt Fund. The trustee and custodian of the JBVantage unit trusts is Deutsche Bank AG Colombo. JB Vantage deploys rigorous industry practices - Global Investment Performance Standards (GIPS) and the CFA Asset Manager Code.