---
Foreign inflows originating from Australia have recorded a marked improvement during the month of April, recording a surge since the recently conducted Invest Sri Lanka Investor Forums in Australia.
The daily average inflows originating from Australia since the forum has marked an improved to Rs. 23.22 million, rising from an average of Rs. 0.87 million recorded over the preceding 11 months. In total, Australian inflows have contributed a total of Rs. 487.62 million since the events Down Under – a 94 percent portion of the total purchases originating from the country in 2017.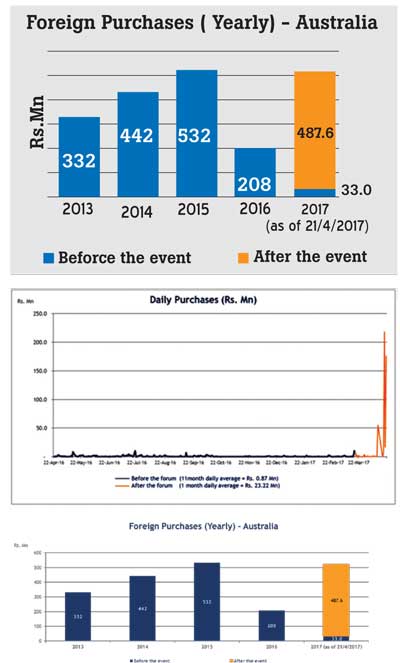 The post forum surge in investment from the country has also placed Australia as the 7th largest contributor to foreign purchases in the month of April, a marked improvement from its ranking of 14 prior to conducting the events in 2017 and 19 in 2016.
Commenting on the development, the Head of Market Development at CSE Niroshan Wijesundere said, "We are pleased to see the events in Australia having a positive effect on the turnover flowing in from the county. This is consistent with a trend that we have experienced with Foreign Investor Forums conducted in the past, where these events almost immediately rejuvenate the interest in the Sri Lankan capital market. The presence of the stock brokers who traveled with the delegation to Australia also played a vital role in following up and securing such investments."
He also pointed out that partnering with event sponsors and the Sri Lankan High Commission in Australia, the Australian High Commission in Sri Lanka, bilateral associations and business councils was critical to hosting three successful Forums in both Sydney and Melbourne.
A strong community of individuals with a Sri Lankan origin eager to look at new Sri Lankan investment opportunities and the celebration of 70 years of diplomatic ties between Sri Lanka and Australia presented the CSE with a unique opportunity to promote the capital market in Australia.
Growth in overall foreign investor contribution to turnover
Overall foreign investor activity has also recorded a rise in 2017, with a net foreign inflow of Rs.16.5 billion, a vast improvement compared to previous years, which recorded an inflow of Rs. 383.5 in 2016 and an outflow of Rs. 5.3 billion in 2015.
Foreign investor contribution to total turnover in 2017 stands at 50.1 percent, another improvement in comparison with 42 percent in 2016 and 34.4 percent in 2015, which also points towards a growing interest among foreign investors in the Sri Lankan capital market.
Rise in stock market indices in 2017
On another note, the share price indices at the CSE have also made consistent gains in the month of April, with The Benchmark All Share Price Index (ASPI), crossing the 6,500 mark on Thursday the 20th of April.
The index closed at 6,602.44 points by the end of trading for 4th May, a 6.01 percent increase in the index in 2017 (year-to-date). The S&P SL 20 index, which features the CSE's 20 largest and most liquid stocks has also improved consistently, making a 8.26 percent gain in 2017 (year-to-date) and closing at 3,785.15 points by 4th May. Overall trading activity has also improved in 2017, with the Daily Average Turnover recorded for trading in 2017 (year-to-date)marking an improvement to Rs. 901.0 million from Rs.737.2 in 2016.